Receiving the Innovation Award of Excellence was the Head Start In Business Program nominated by the North Claybelt CFDC. The Head Start In Business program was the brainchild of the North Claybelt CFDC.
What began as a pilot project in 2001 to help youth at risk evolved into a series of nine programs designed to encourage young people between the ages of 5 and 34 to explore and develop entrepreneurial skills. The programming covers a continuum of age-appropriate material that helps participants envision entrepreneurship as a viable career option in Northern Ontario. So far HSIB has exposed over 20,000 Anglophone, Francophone and First Nations youth to entrepreneurship in their respective communities or schools. This project has collaborated with all 24 Community Futures Development Corporations (CFDC) in Northern Ontario.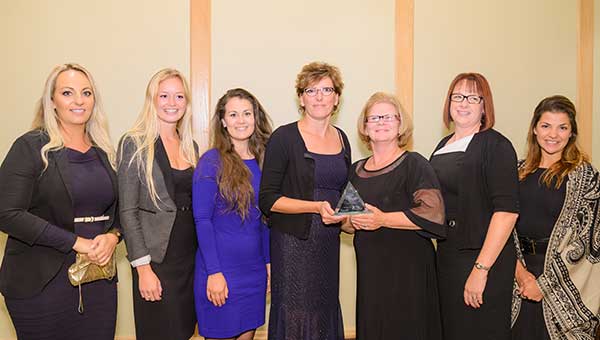 Photo (by Kimberley Pirie-Milko): Head Start in Business received the "Award of Excellence for Innovation" at the recent Community Futures Ontario Conference. On hand for the awards ceremonies were Bonnie Martineau, Cierra Parkhill, Adele Delorme of Head Start in Business; Linda Semczyszyn of the North Claybelt CFDC; Cindy Reasbeck, Erinn Nesbitt and Ashlee Gerard of Head Start in Business.
Check out their winning video at https://www.youtube.com/watch?v=pe12SAsJZtQ