May 2014
[Submitted by Frank Rupcic, General Manager, Venture Niagara CFDC]
Established as a not-for-profit corporation in 1985, Venture Niagara is one of 61 Community Futures Development Corporations in Ontario. The organization has a service area that includes the seven municipalities of Grimsby, Lincoln, Niagara-on-the-Lake, Pelham, St. Catharines, Thorold and Welland. Venture Niagara uses its resources to help create and maintain employment for these towns and cities.
The corporation has a staff of four that includes: General Manager Frank Rupcic; Financial Analyst Kathy DiFiore; Community Economic Development Manager Susan Morin; and Administrative Assistant Wendy Watson. With the direction of an active Board of Directors, the team delivers a much needed source of financing for local businesses and a broad range of economic development activities.
Financing is provided in the form of term loans and operating lines to small and medium size enterprises. This past year, Venture Niagara provided over $1 million in repayable financing to 18 businesses. The companies ranged in size from a two-man design company start-up, to a health related corporation employing more than 30 people.
Venture Niagara's Community Economic Development program is heavily influenced by the Niagara region's vibrant tourism industry. Some examples of the projects that are currently underway include:
Niagara Tourism Network – topical monthly information exchanges to encourage synergies and marketing partnership opportunities
Tourisme Franco-Niagara – promotes Niagara as a destination to French-speaking tourists, while working with the local tourism industry and francophone community resources. "Les Saisons Niagara" is an annual tourism magazine that is written in French and distributed to targeted areas in Quebec. It is designed, printed and delivered by project partners: http://www.bonjourniagara.com
Sports Tourism – Venture Niagara has been at the forefront of developing partnerships in sport tourism. A partnership with the City of Welland started the development of the Welland Sport Tourism Alliance. Another partnership with Brock University and Heart Niagara helped establish the Niagara Sport Commission. The development of the Niagara Sport Commission's Sport Tourism Committee expanded partnerships between sport events, the tourism industry and destination marketing organizations: http://www.niagarasportcommission.com. This project won an OACFDC Award of Excellence in 2011
Cycling Tourism – Venture Niagara recently identified an opportunity to enhance Niagara's cycling infrastructure, networks and assets. With support of the Region of Niagara, the corporation will complete an environmental scan of overall cycling assets to position Niagara as a premier cycling destination for tourists, recreationists and locals alike, regardless of age and cycling abilities.
The corporation's key activities of small and medium-sized enterprise financing, business advisory services and community economic development initiatives are in high demand. It is anticipated that the corporation will continue to deliver these resources for many years to come, having done so since 1985. Venture Niagara will be celebrating its 30th anniversary in 2015.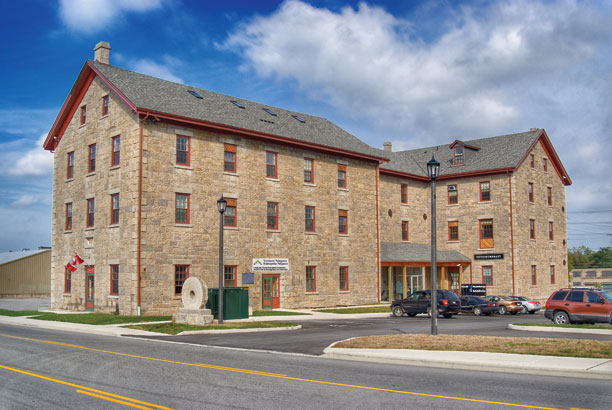 Venture Niagara is located in the historic Welland Mills building in Thorold, Ontario. This is an authentic grain mill built in 1846 and carefully restored in 2007. It now provides a vibrant mix of commercial and residential uses in the heart of the town.